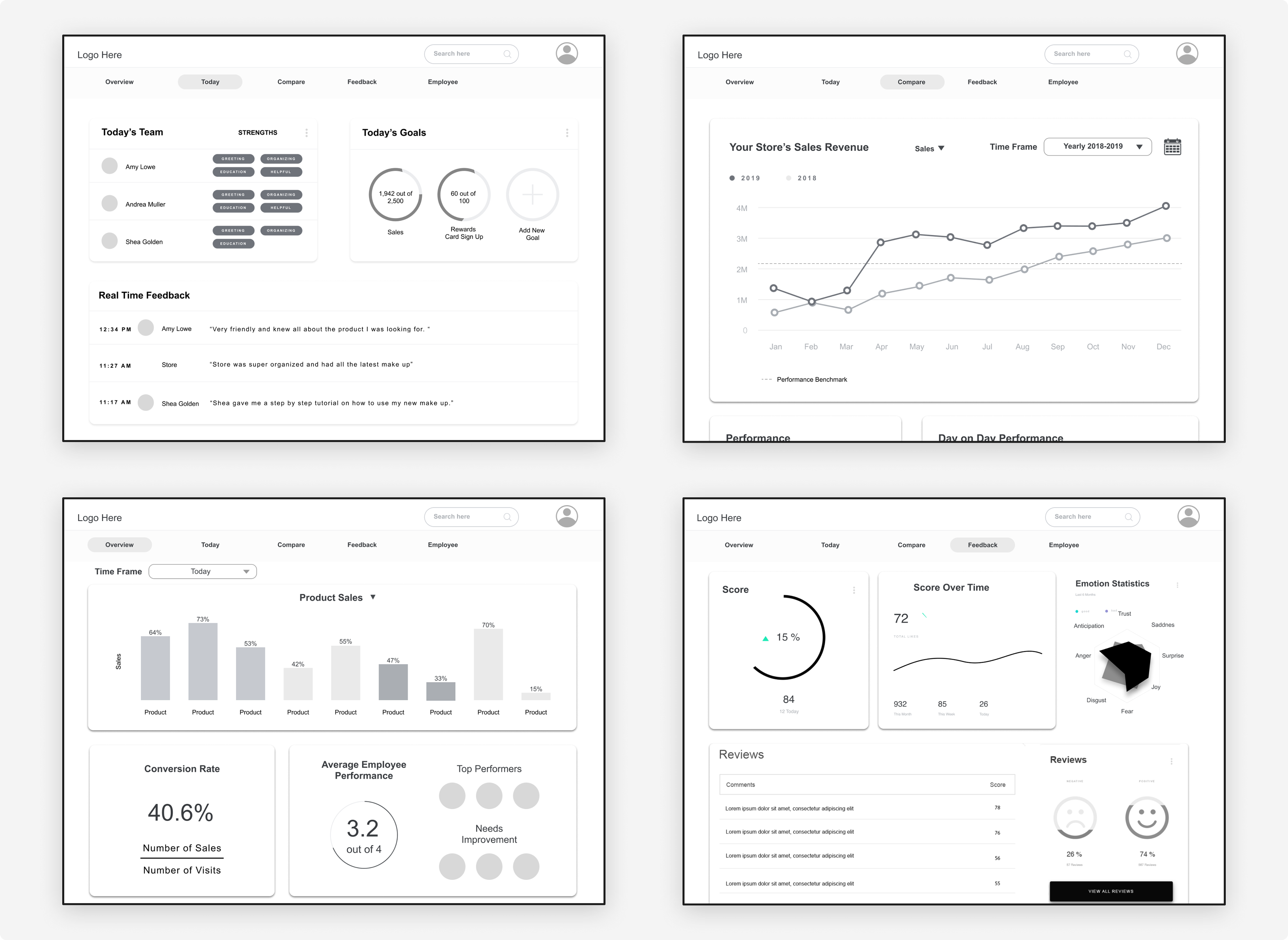 What is RaterBee
RaterBee is a customer-facing platform that collects feedback on retail store associates.
​​​​​​​ This feedback allows managers to see the strengths and weaknesses of their associates as it relates to company's brand and principles. In turn allowing for more individualized training/coaching in order to provide an exceptional customer experience.

RaterBee can easily collect feedback on store associate behavior and customer experience but when it comes to displaying that information in a clear and easy to understand manner, it falls short. The current CSV spreadsheet is inconsistent and overly complicated. 
My team was to design a platform that enables store management teams to quickly and easily view this data in order to take action which aids in delivering a better in-store experience for the consumer.
Unfamiliar with RaterBee's problem space, we set out to learn the following in order to further our understanding of the space and competitors.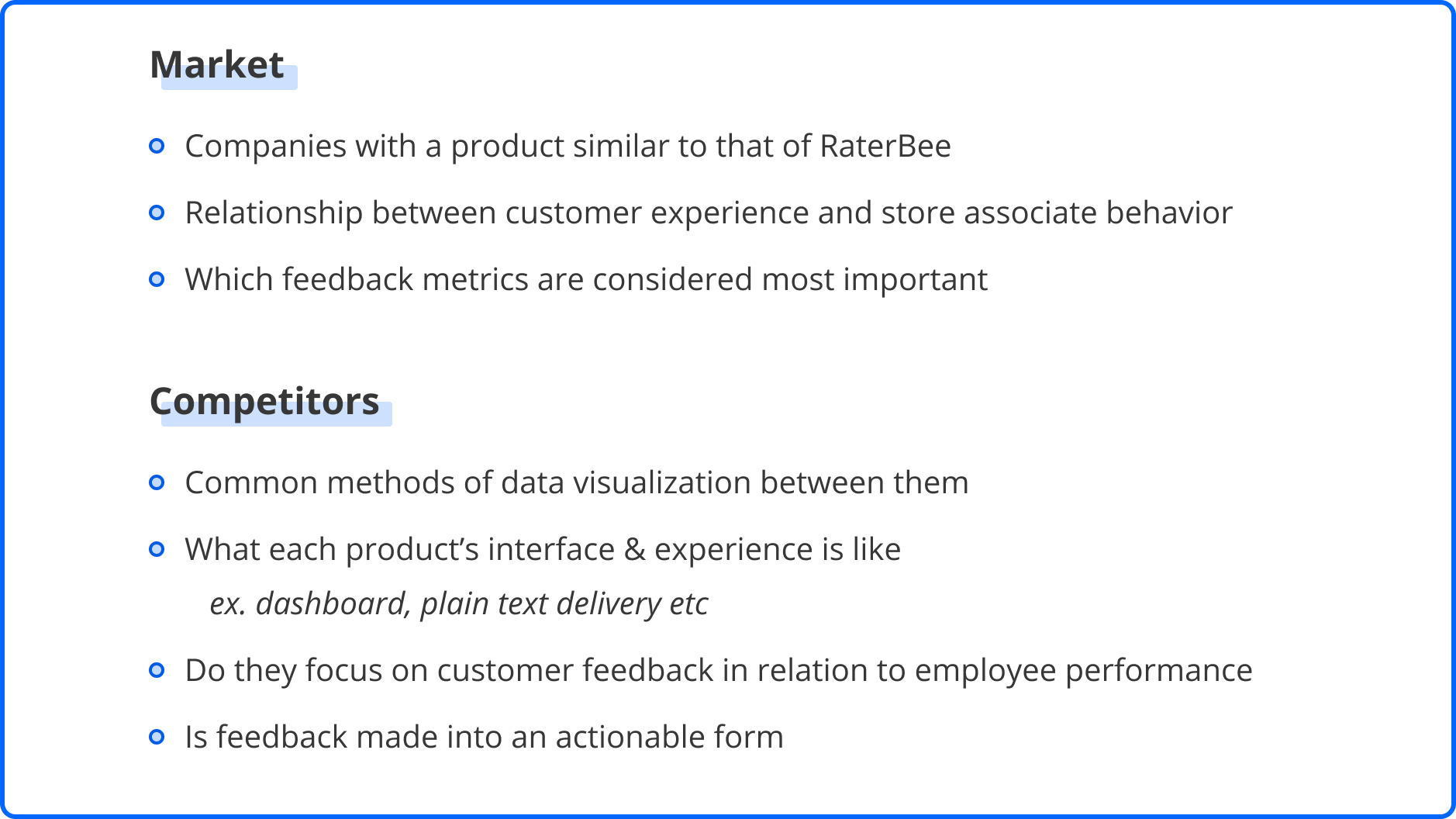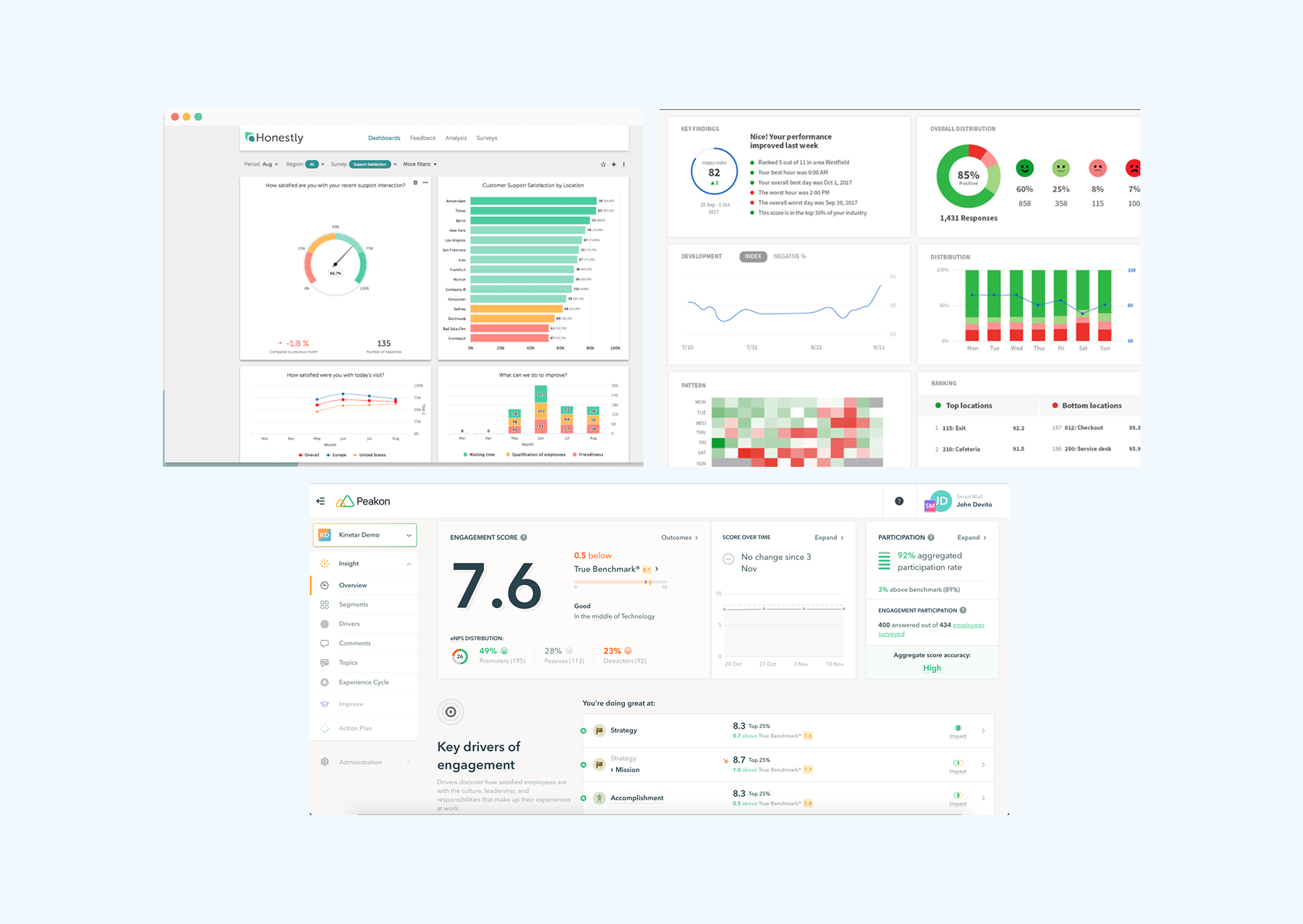 We discovered the following 

​​​​​​​

What do our users say ?
​​​​​​​
We spoke to 7 retail experts hoping to gain a better understanding of the following

After these interviews I lead my team in parsing through transcripts in order to dig out these highlighting points from each retail expert. ​​​​​​​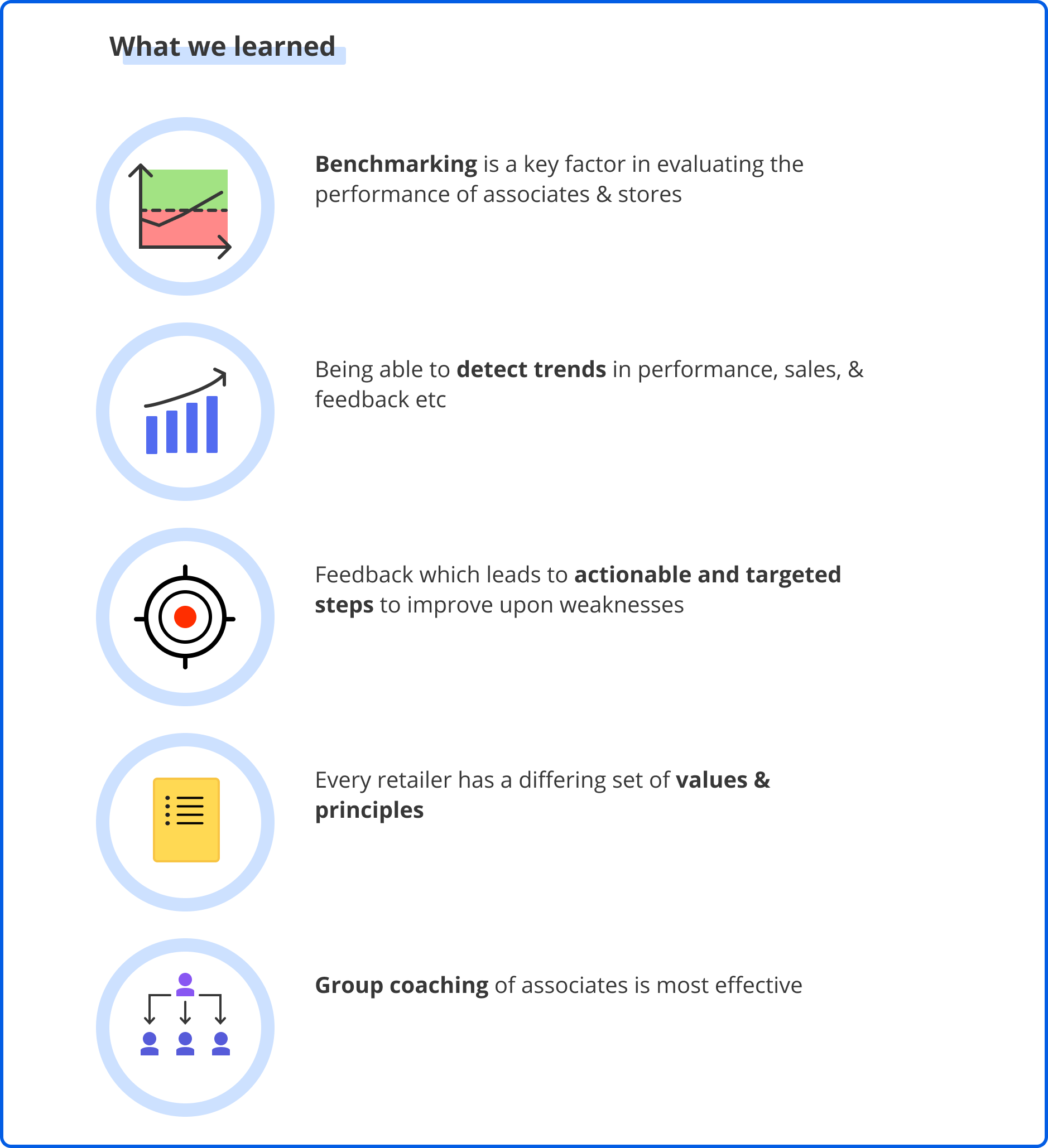 Based on the research, we constructed a problem statement as well as set of design principles to keep us focused on solving for the user while still meeting our client's needs.

​​​​​​​​​​​​​​
Store managers need a dynamic interface that can display customer feedback analytics and sales metrics in order to clearly identify areas of improvement as well as examine the relationship between customer experience and sales.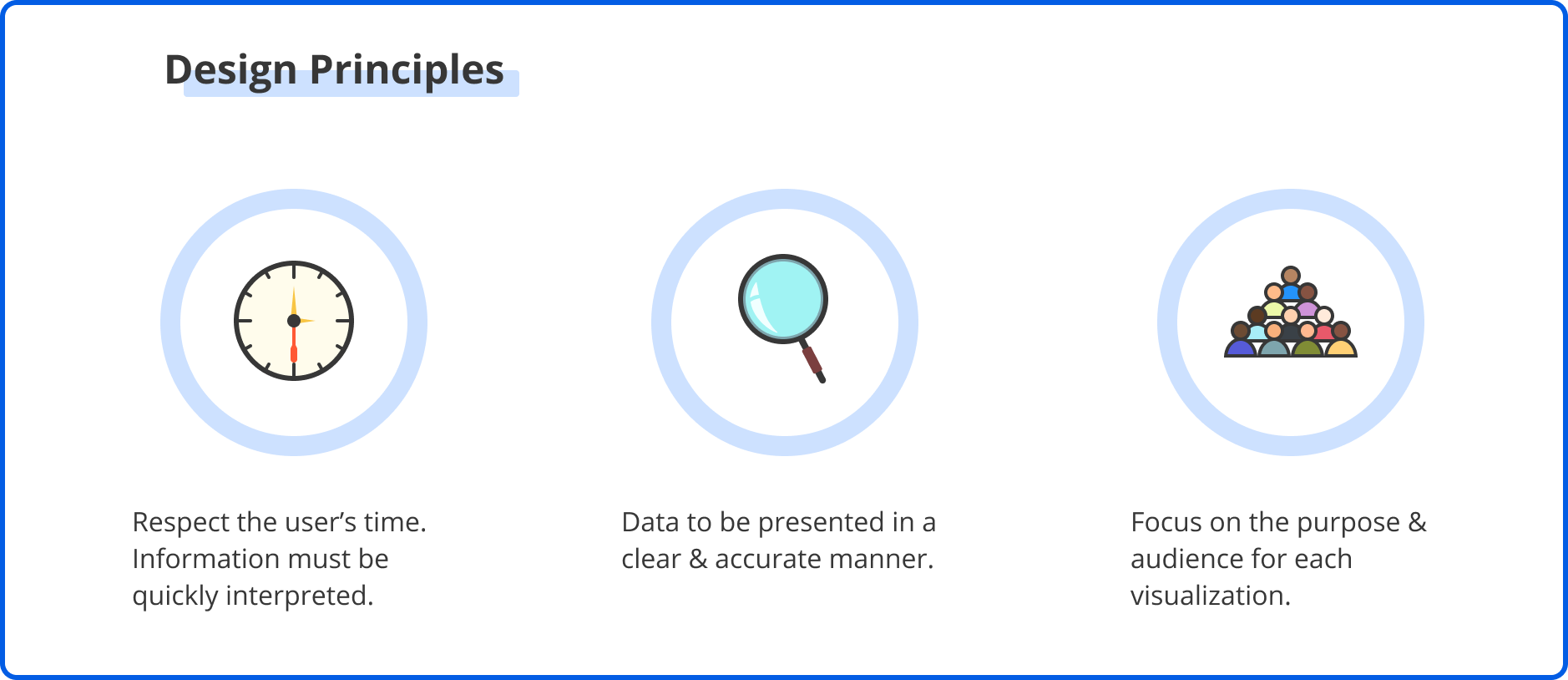 Brainstorming Concepts
I initiated my team's ideation session as soon as we felt that we had pinpointed what metrics were most important to our users in relation to the client's ask.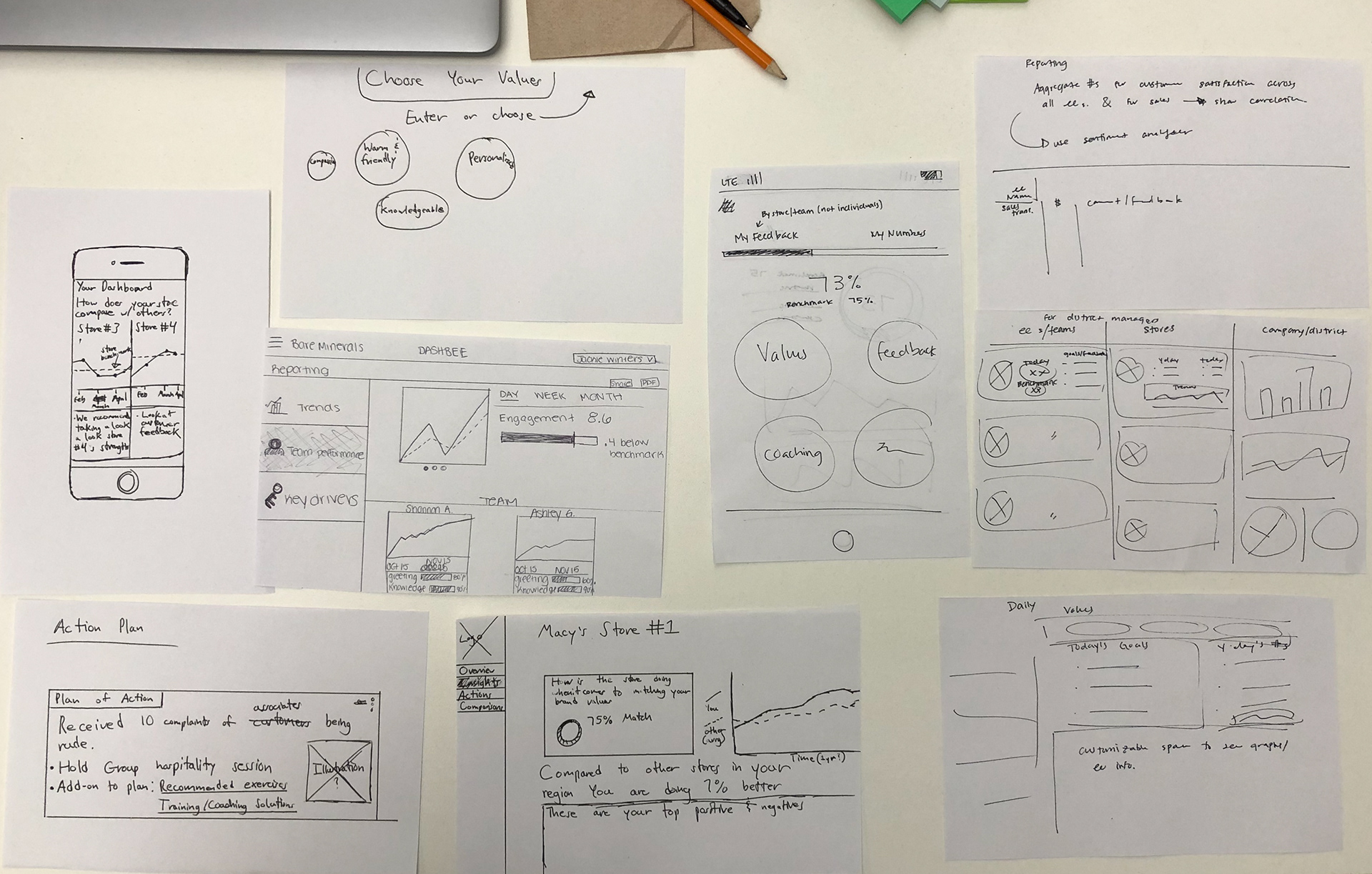 Multiple rounds of ideation led us to the following 5 concepts that would be shown in a series of concept testing interviews with our users and subject matter experts.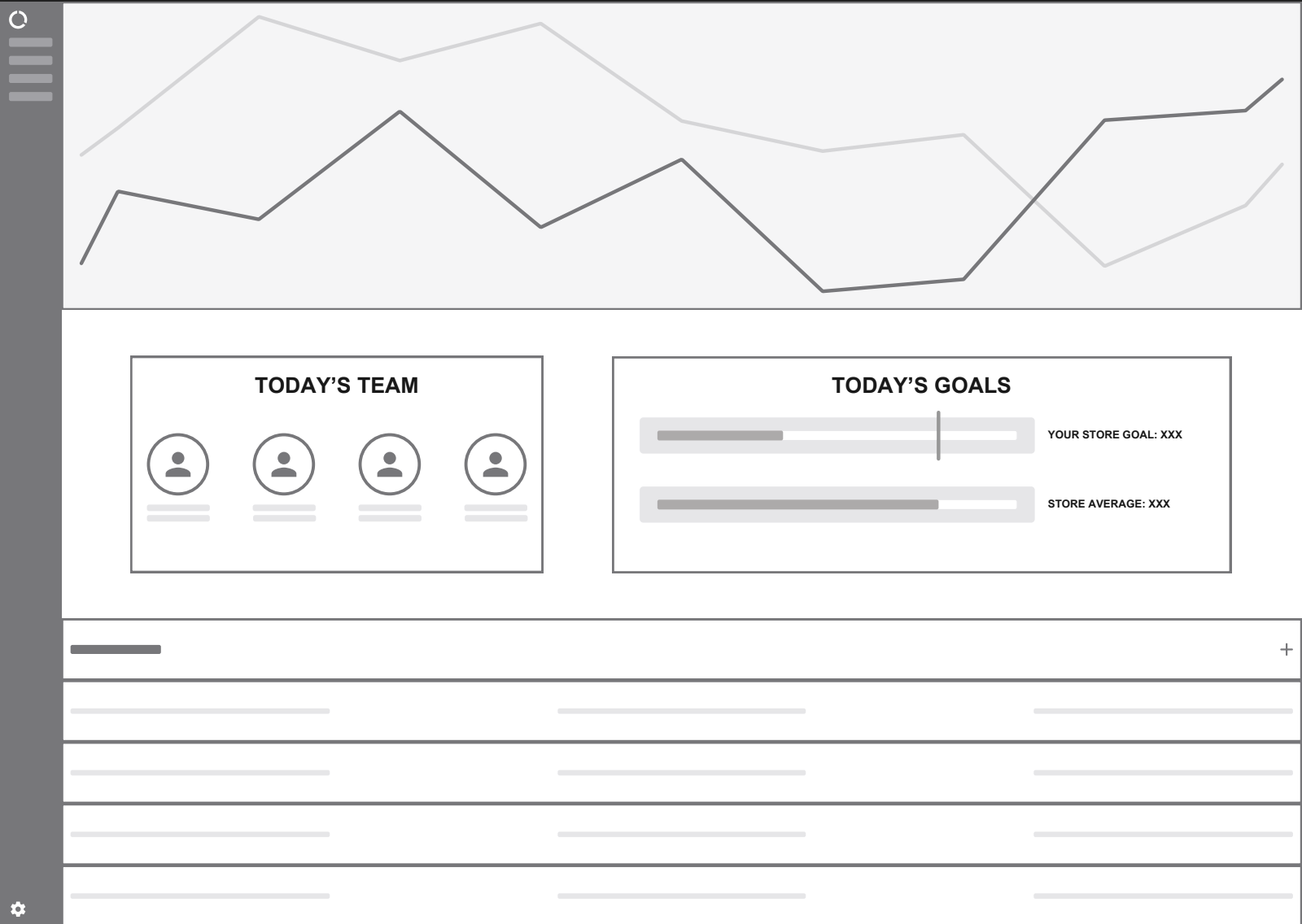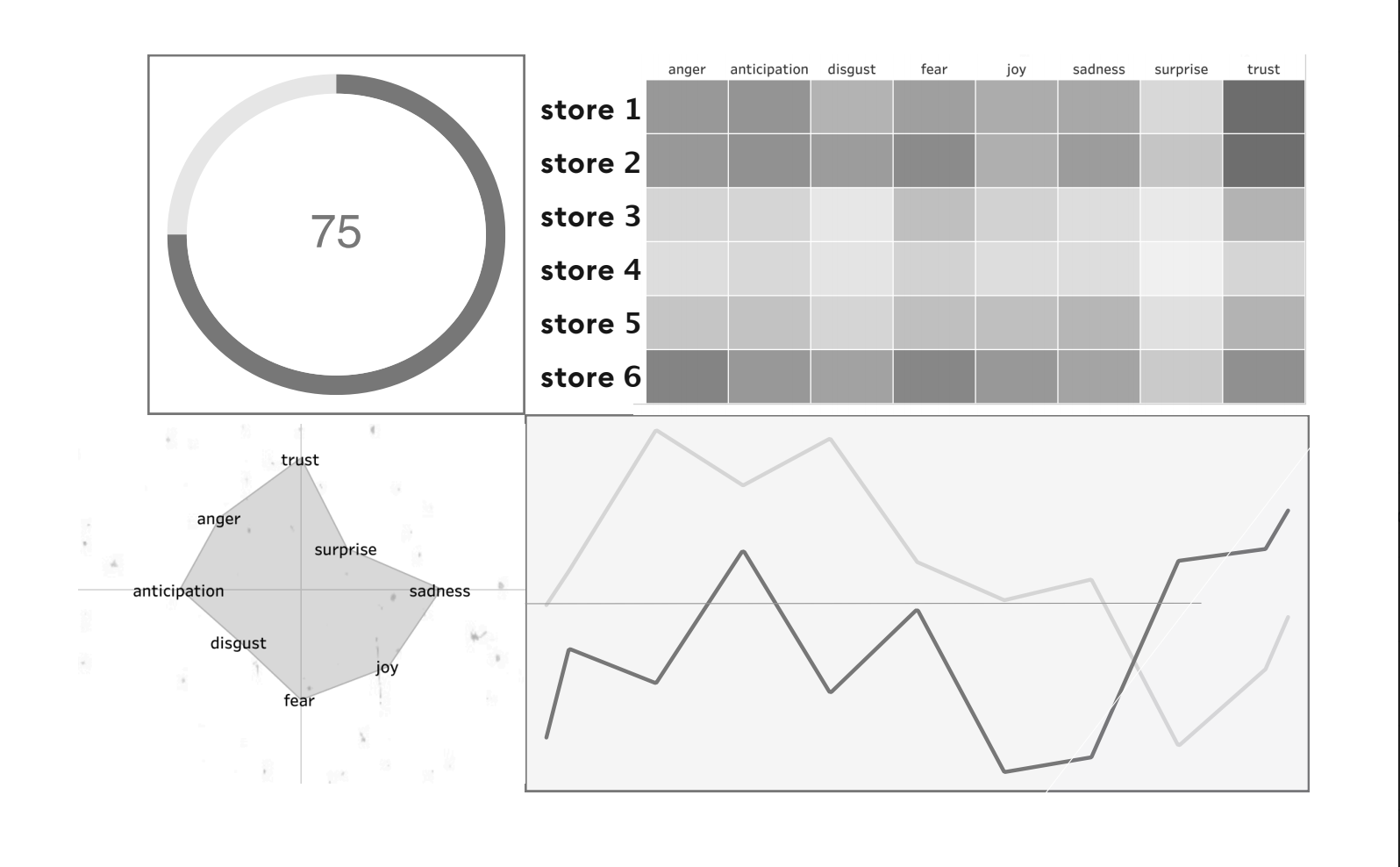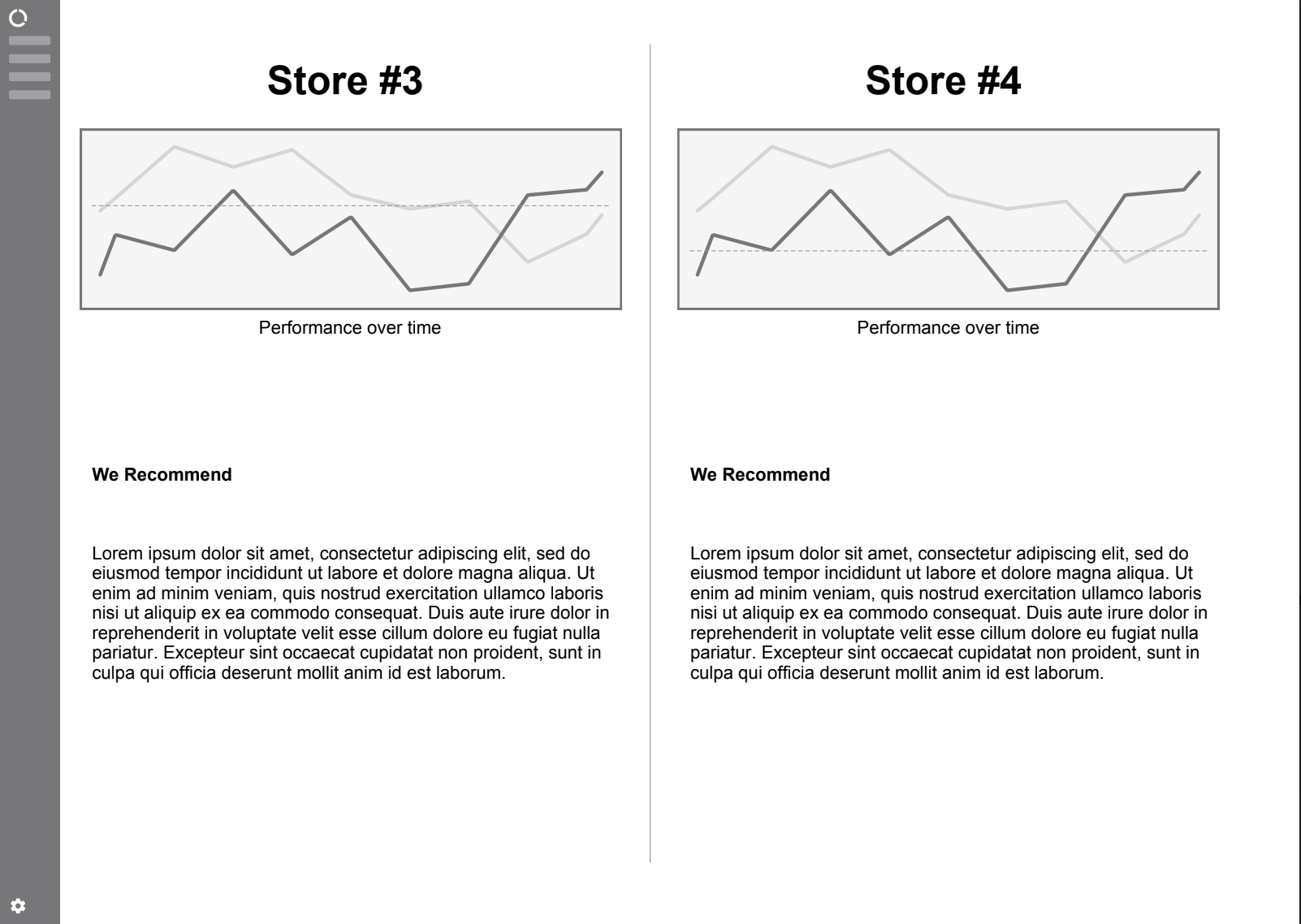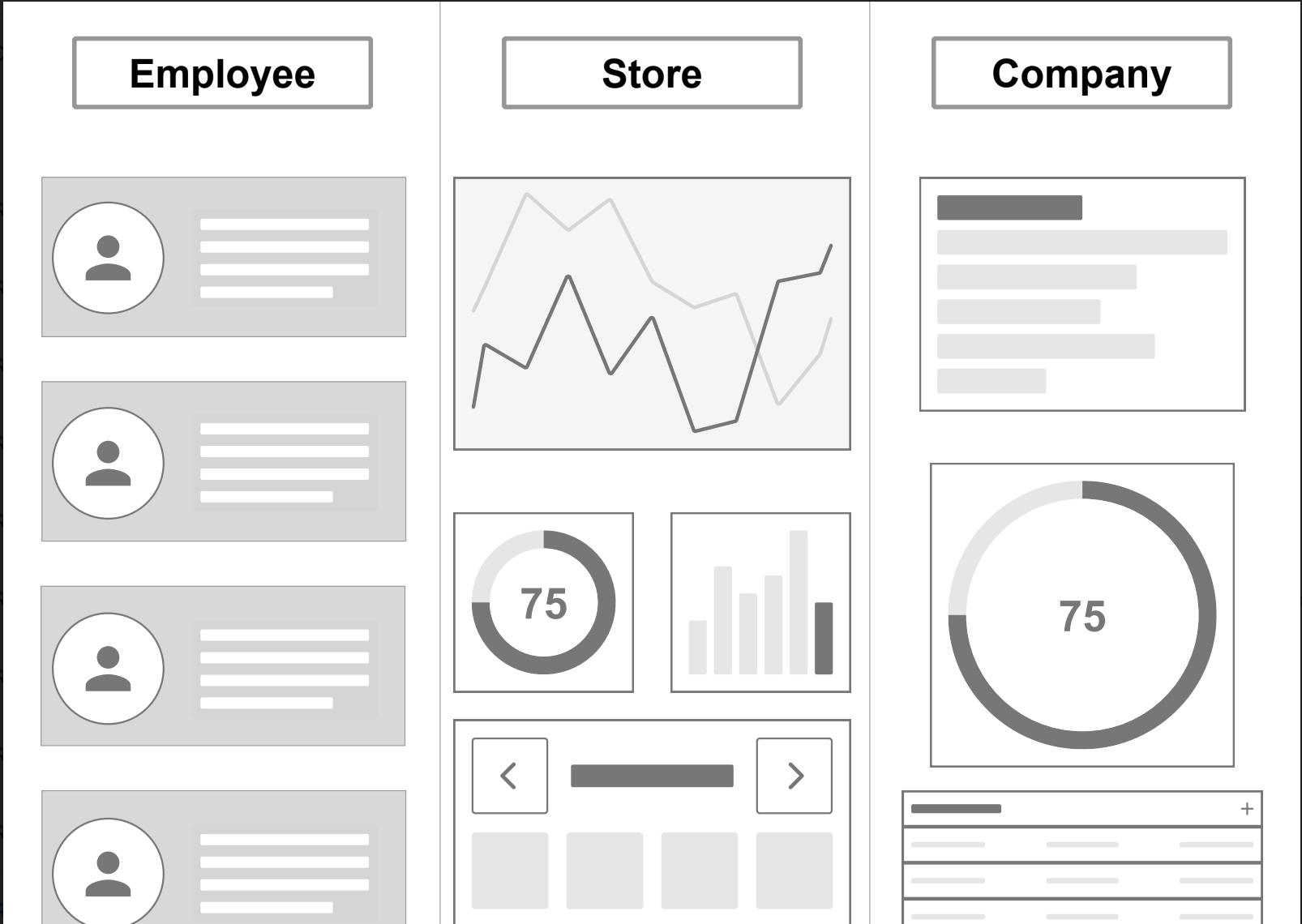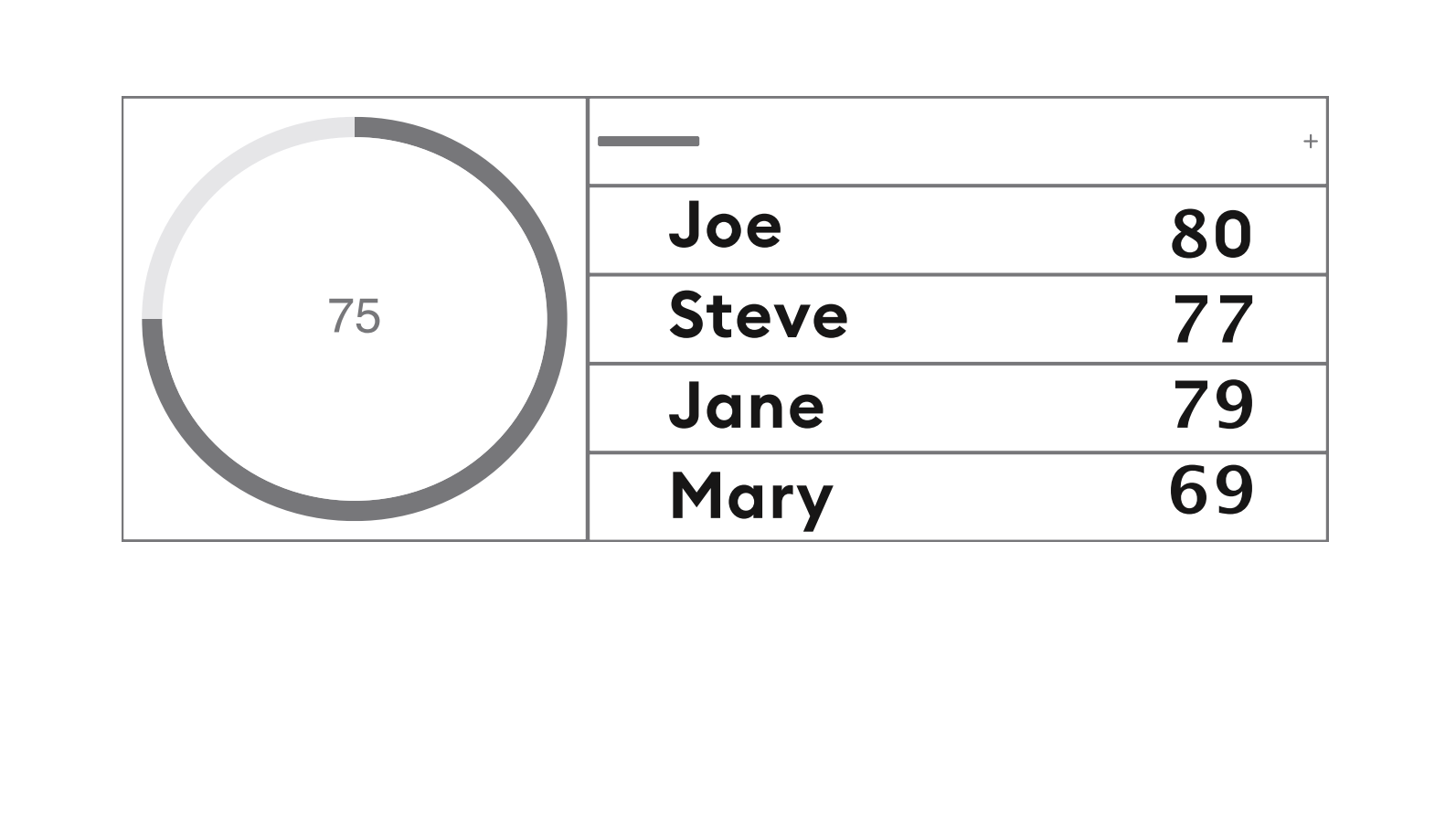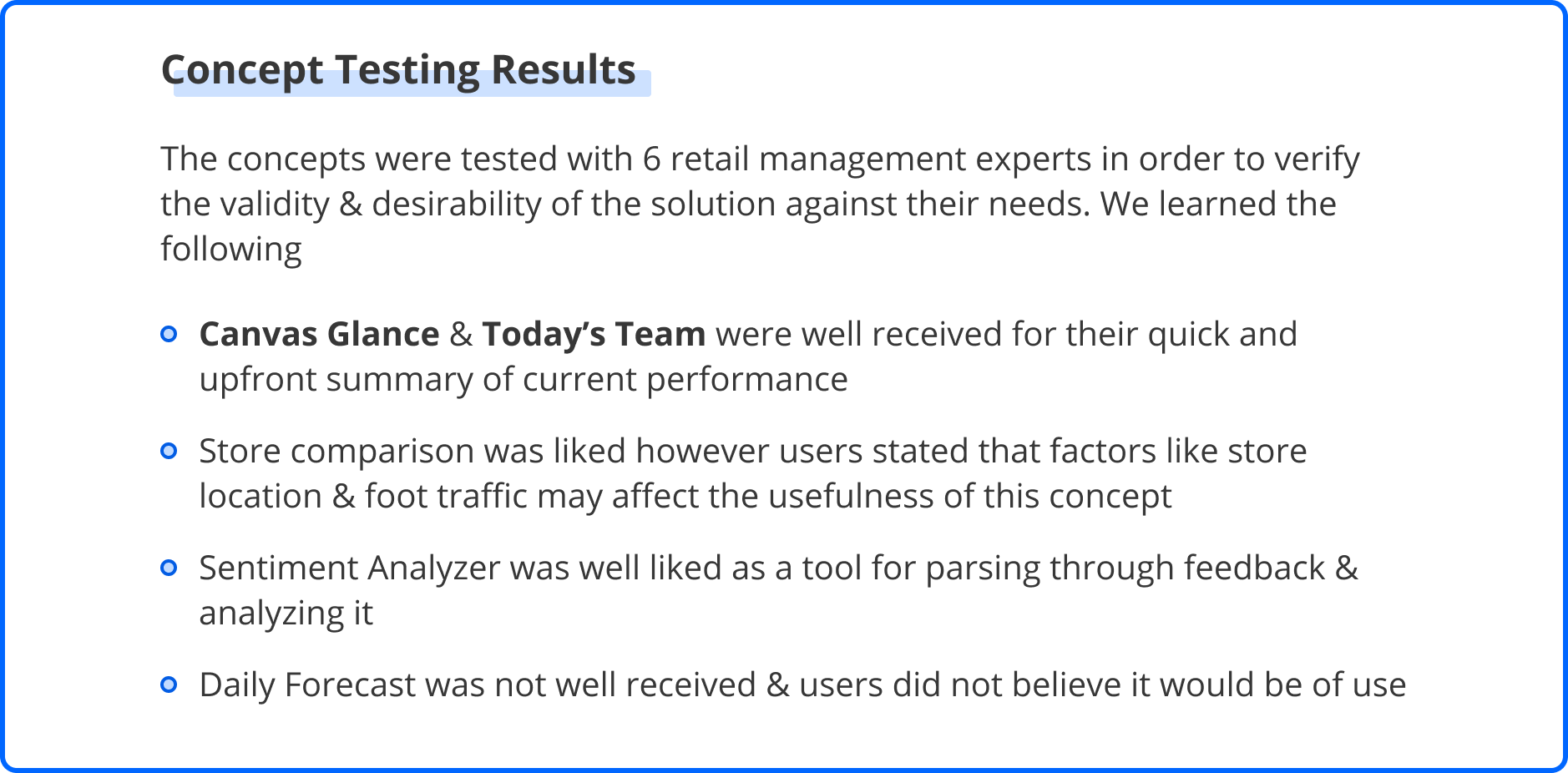 Our team created a multi-page dashboard that is intuitive & easy to understand; allowing store management to quickly view store and associate metrics as well as customer feedback.
​​​​​​​
The section I was responsible for. It allows users to compare store and employee performance from the present to an earlier period. These performance stats are shown over the specified time period over a graph that makes note of the specific company's benchmark for good performance. The bottom modules are more for a quick look at how you're doing over a short period of time. When doing store comparisons however, store size, location foot traffic etc have to be taken into account. You can't compare stores in Times Square to a location in a suburb. Given more time I would have liked to test this page further and understand what exactly it is that users would engage with and what is possibly redundant. I made sure to keep the visuals clean and simple as store managers have a lot on their plate and need easy access to relevant information. I included a way to change graphs to employee performance charts because that is primarily what our users did want to see. How their associates are performing which helps gauge store performance.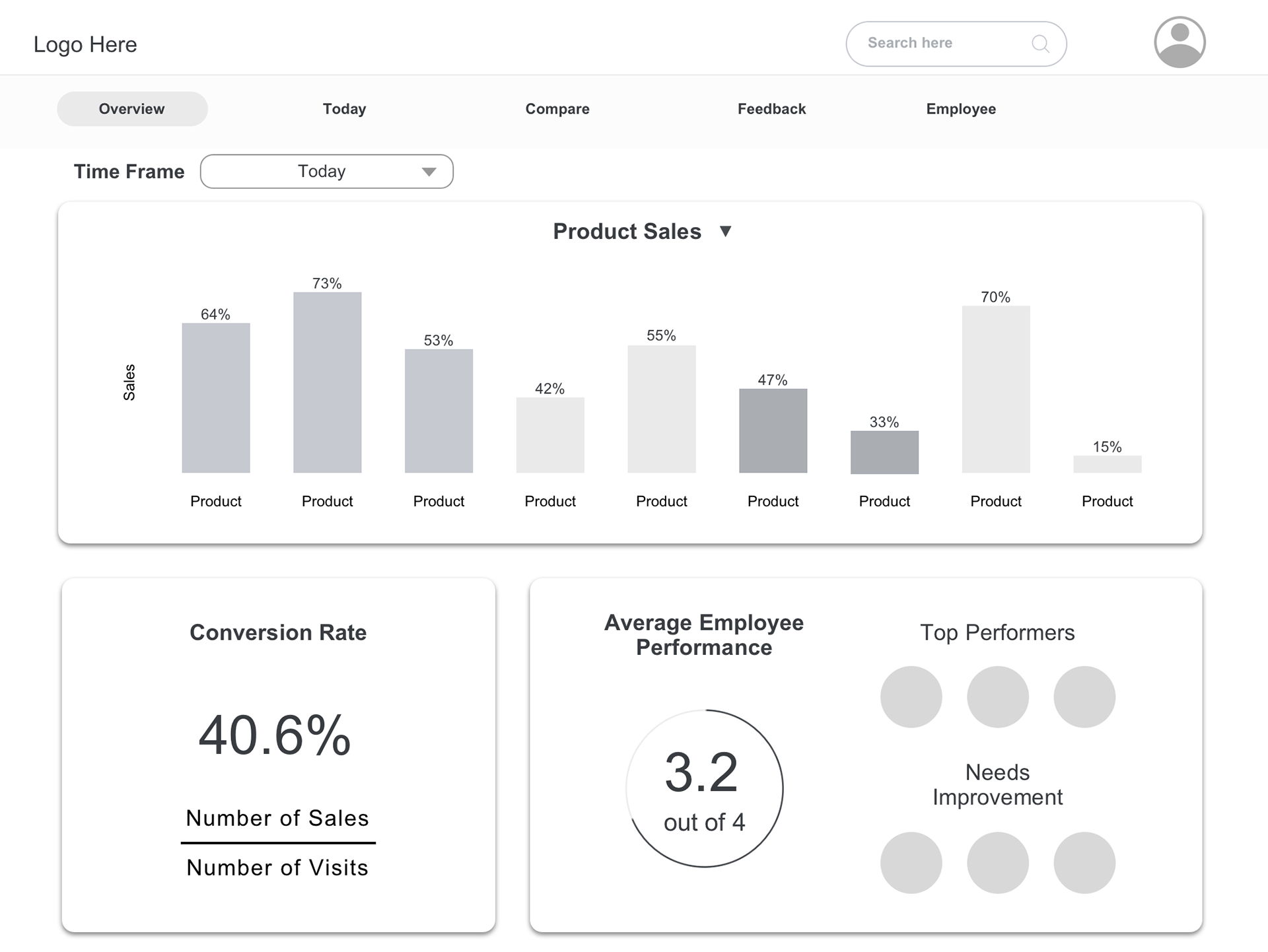 From insights garnered through user research and concept testing, the Overview page was born. It's purpose is to act as a quick yet informative breakdown of store performance. It includes sales breakdown by products/departments. In keeping with our client's focus it also includes employee performance and indicates their current standing. This allows for managers to address it quickly.
This page acts as the rundown for the day's schedule. Since store managers have a hectic and busy shift we provided a "Today's team" module which allows them to easily see who is on shift and gain an understanding of the current team. Many users stated that these modules helped to get a a quick handle on the day and current situation at the store.